Trinidad Black Fruit Cake
December 17, 2022
2022-12-17 15:04
Trinidad Black Fruit Cake
Trinidad Black Fruit Cake
Print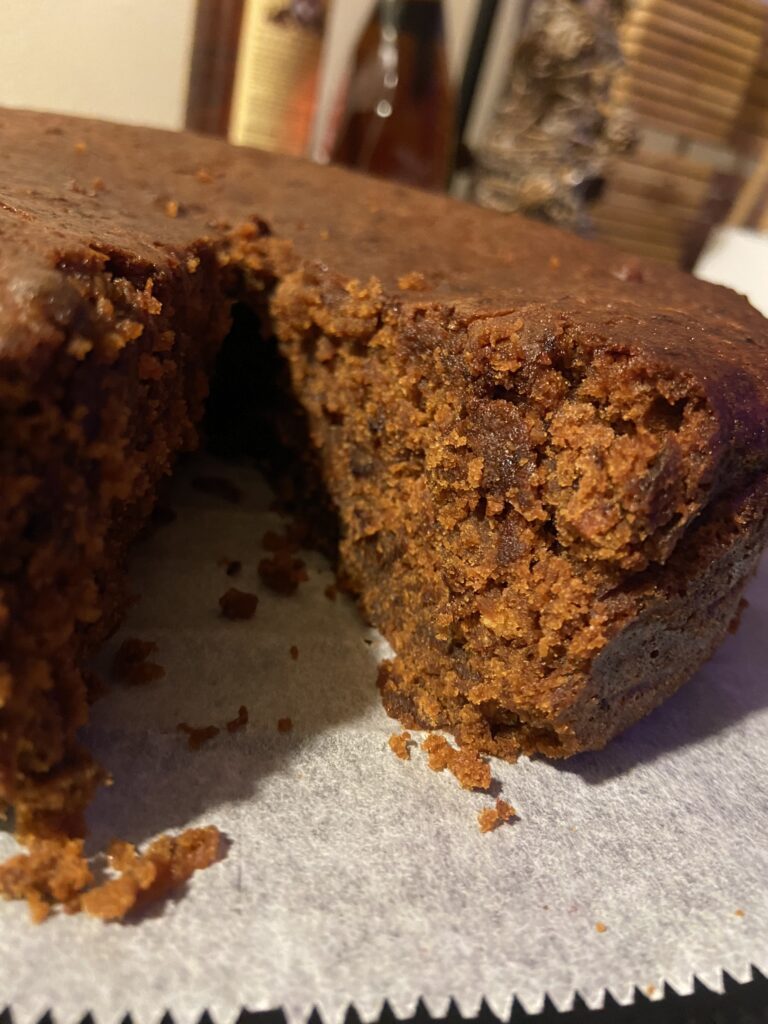 Trinidad Black Fruit Cake
Total Time:

2 hours 45 minutes
1 cup

granulated sugar

1 cup

butter, room temperature

5

large eggs, room temperature

1/3 cup

dried currants

1/3 cup

raisins

1/3 cup

pitted dried prunes

1/3 cup

mixed peel/fruit cake mix

1/3 cup

maraschino cherries

1 cup

dark rum

1 cup

cherry liqueur or cherry brandy

2 cups

all purpose flour

2 tsp

baking powder

2 tsp

cinnamon

2 tsp

nutmeg

2 tsp

cardamom

2 tsp

vanilla extract

1 tsp

almond extract

1 tsp

orange extract

1 tsp

lemon zest
About

1/4 cup

or more of browning (you can make your own). The batter should be a dark brown color.

Additional cherry liqueur and rum for soaking the cake after baking.
Instructions
Soak the fruits in rum and cherry liqueur for a few hours, days or weeks before making the cake. Soaking helps to soften the fruits.When you're ready to make the cake, puree the fruit mixture in a food processor until smooth. Measure 2 cups of the pureed fruit mixture and set aside.
Ensure that the eggs and butter are room temperature.
Cream the butter and sugar until light and fluffy.
In a separate bowl, whisk the eggs along with the lemon zest, vanilla extract, orange extract, and almond extract.
In another bowl, combine the flour, cinnamon, nutmeg, cardamom, and baking powder.
Gradually add the egg mixture to the butter and sugar, mixing well until combined. Add the fruit mixture and mix to combine. Gradually add the flour mixture until well incorporated. Be careful not to over-mix. Lastly, add the browning and combine.
Preheat oven to 350 F. Line a baking pan with parchment paper and transfer the batter. This recipe makes one 9 inch round cake, two smaller 7-8″ cakes, or 15-20 cupcakes.Bake for 1 hour, then lower the oven temperature to 280 and continue baking for another 45 minutes, or until a toothpick inserted into the center comes out clean.
If baking cupcakes, be sure to use cupcake liners in your pans, and preheat the oven to 280 F. Bake for around 45 minutes, or until a toothpick inserted into the center comes out clean.
Remove the cake from the oven and pour some rum and cherry liqueur mixture over it. Only add a few tablespoons at a time, and allow the alcohol to fully be absorbed before adding more.
Store the cake in an airtight container. Additional alcohol can be poured over it every few days.
Author:

Prep Time:

1 hour

Cook Time:

1 hour 45 minutes

Category:

Desserts

Method:

Baked

Cuisine:

British